Welcome to beautiful Thayne, Wyoming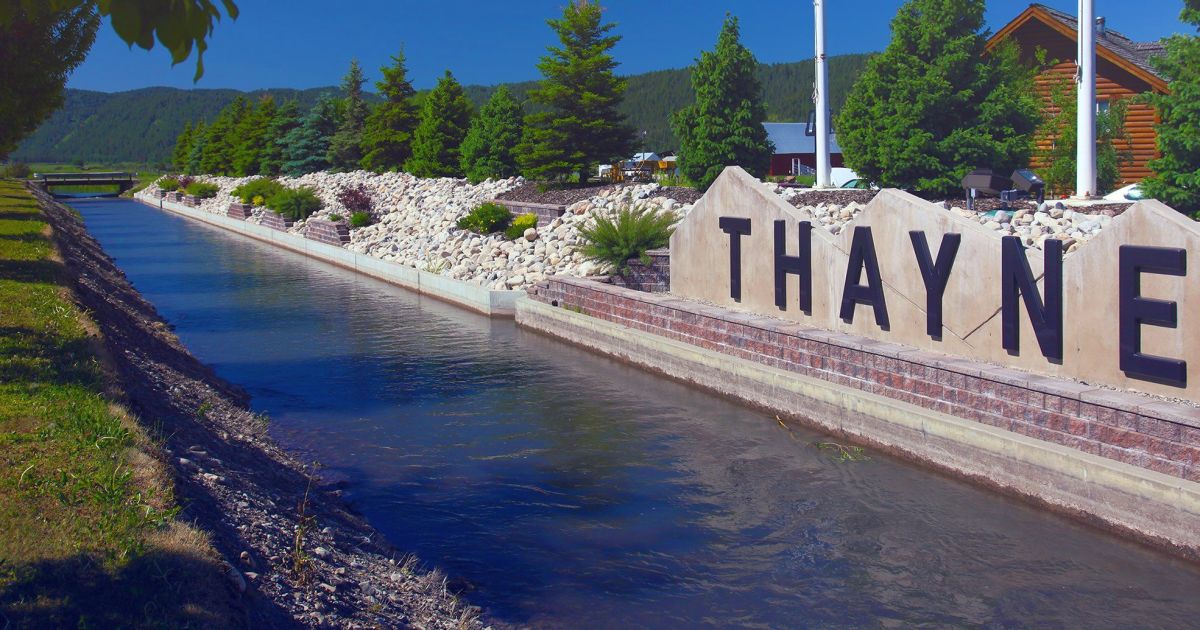 Thayne is located at 5,945 feet in elevation. It sits in the northern portion of Star Valley, Wyoming close to the Salt River. It is surrounded by green grasslands and ranches, mountains at the valley's edge with pine and aspen forests that reach to the stars.
Thayne has an abundance of wildlife in the area including elk, deer, moose, beaver, ducks, geese, swans, and more. There are many receational opportunities and it is a complete community with churches, schools, doctors, dentists, optometrists, grocery stores, banks, motels, restaurants and many other small businesses. If you come to visit, we are sure you will love it.

For information about upcoming events, please click the link below for Thayne's community calendar.
For more info: http://www.thayne-wy.com/
---
Thayne History
The early visitors to this area included members of the Blackfoot, Crow, and Snake Indian Nations and fur trappers. One of those trappers was Osborne Russell. Mr. Russell recorded his first visit to this area in an excerpt from his writings "Journal of a Trapper" by Osborne Russell.

Osborne Russell--"Journal of a Trapper"
"There are large quantities of Beaver and Otter living in these streams but the snow melting raises the water so high that our trappers made but slow progress in catching them. We stopped in this valley until the 20th of April then moved to the South East extremity and made an attempt to cross the mountain. The next day we travelled up a stream called Rush Creek in an East direction thro. a deep gorge in the mountain for about 12 miles which then widened about a mile into a smooth and rolling country here we staid the following day we then took a N E course over the divide and travelled about 12 Miles thro. Snow two or three feet deep and in many places drifts to the depth of 6 or 8 ft. deep.
"At night we encamped on a small dry spot of ground on the South side of a steep mountain where there was little or no vegetation excepting wild sage. Sometime after we had stopped it was disclosed that one man was missing a young English Shoemaker from Bristol, we found he had been seen last dismounted and stopping to drink at a small branch at some distance before we entered snow. On the following morning I was ordered to go back in search of him. I started on the snow which was frozen hard enough to bear me and my horse. I went to the place where he was last seen and found his trail which I followed on to a high mountain when I lost it among the rocks. I then built a large fire shot my gun several times and after hunting till near sunset without hopes of finding him I gave it up and went to the edge of the snow and stopped for the night.
"The next morning I started at day light in a gallop on the snow traversing Mountain and Valley smoothed up with snow so hard frozen that a galloping horse scarcely left a foot print. About noon I arrived on a high ridge which over looked the Snake Lake and the Valley South West of it which had been apparently clear of snow for some length of time. At the Southern extremity of the Lake lay the Camp about 2 miles distant NE of me. I descended the Mountain and entered the Camp. On the 27th of April we travelled down the West side of the Lake to the outlet into Bear river. Here we found about 300 Lodges of Snake Indians. We encamped at the village and staid 3 days, in the meantime our uppers were engaged hunting Beaver in the river and small streams. We then crossed the river and ascended a branch called Thoma's Fork in a north direction about 10 Mls.
"The next day we started across the Mountain in a North direction and after travelling about 5 Mls. we discovered a large Grizzly Bear about 200 yards ahead of us.: One of our hunters approached and shot him dead on the spot. We all rode up and dismounted to butcher him. He was an enormous animal a hideous brute a savage looking beast. On removing the skin we found the fat on his back measured six inches deep. He had probably not left his winter quarters more than 2 hours as we saw his tracks on the snow where he had just left the thick forest of pines on the side of the Mountain. We put the meat on our pack animals and travelled up the Mountain about 5 miles and encamped.
"The next morning we started about 2 hours before day and crossed the Mountain on the snow which was frozen hard enough to bear our animals and at 10 oclk AM we found ourselves travelling down a beautiful green vale which led us to the Valley on Salt River where we encamped about 2 oclk PM.
"This river derives its name from the numerous salt springs found on its branches it runs thro. the middle of a smooth valley about 40 miles long and 10 wide emptying its waters into Lewis fork of Snake River its course being almost due North. This is a beautiful valley covered with green grass and herbage surrounded by towering mountains covered with snow spotted with groves of tall spruce pines which from their vast elevation resemble small twigs half imersed in the snow, whilst thousands of Buffaloe carelessly feeding in the green vales contribute to the wild and romantic Splendor of the Surrounding Scenery.
"On the 10th of May we moved down the river about 12 miles to a stream running into it on the west side called Scotts Fork. Here are some fine Salt Springs the Salt forms on the pebbles by evaporation to the depth of 5 or 6 inch in a short time after the snow has dissappeared
"11th May After gathering a Supply of Salt we travelled down the river about 15 miles and encamped near the mouth of a stream on the west side called Gardners Fork. Here we met with Mr. Bridger and his party who informed us that the country around and below was much infested with Blackfeet. They had had several skirmishes with them in which they had lost a number of horses and traps and one young man had been wounded in the shoulder by a ball from a fusee. Upon the receipt of this information our leader concluded to shape his course towards the Fort. On the 14th of May we ascended Gardners fork about 15 mls. thro. a deep gorge in the high craggy mountain May 15 travelled up this stream West abt. 10 Mls. when the country opened into a valley ten miles long and 2 wide. Here we left Gardners fork which turns almost due North into the high mountain with the bend of it just cutting the north end of this valley, we travelled South about 3 miles and encamped on Blackfoot which runs into Snake river after a course of about 100 mls."
For more of Osborne Russell's Journal click here:
http://user.xmission.com/~drudy/mtman/html/ruslintr.html

Settlement of Thayne, Wyoming
Following the course of the Salt River through the narrow passage in the hills north of Upper Star Valley, the pioneers of the late 1879's came to another valley which became known as the Lower Star Valley, or the Lower Valley.
Early settlers stayed in what is now Thayne, which was then known as Glencoe. The McFarlane and Baxter families gave the settlement its name to remind them of their native Scotland.
The first permanent settler's home was built by John Vail in the fall of 1887. He brought his mother, Tyresha Ann Vail, and his grandmother, Martha Vail, from Idaho to spend the winter of 1887-88 with him in his new home.
In 1891, a church was built in Thayne. It was a log building with a dirt roof and a split pole floor.
The first school teacher was Mrs. Lyde Vail, who taught school in the church for six weeks in the winter of 1891.
In 1889, the McFarlane family entertained the entire populace, consisting of 14 families in their home for the first Thanksgiving celebration.
Mail was brought into the valley in the early days by anyone who would volunteer this service. A small one room log cabin owned by Joseph Thayne was one place where mail could be obtained in those early days. While living in the log cabin, Henry Thayne's wife, Laura, promoted the idea of an official post office. Because there was already a Glencoe, WY, the new post office, which also included the first store, was officially established May 8, 1891, and was called Thayne.
The Dayton Scale was developed by an early settler by the name of Lindberg. After patenting the design, he returned to Dayton, Ohio where his scale was perfected and manufactured. His share of the royalties made him a millionaire.
Elsie Roberts practiced medicine from 1899 to 1930 in the Lower Valley. She had a license as a midwife and also set broken bones and performed minor operations.
The Star Valley Swiss Cheese Company at Thayne opened for business January 1, 1949, with Ernest Brog as manager.
Before 1952, Thayne did not have an organized fire department, but the town did have a fire wagon. It was a Model A Ford pickup with a 300-gallon water tank mounted on the back of it. Whenever a fire occurred, the fire wagon was manned by whoever was near.
For more information on the town of Thayne and the rest of Star Valley, WY, please go to the Star Valley Historical Society at http://starvalleyhs.lincolncountywy.org/

A Bend In The River
A book on Thayne's history by ...
See all pages here: http://www.thayne-wy.com/a-bend-in-the-river-