Welcome to Star Valley Appetite

This page is dedicated to showcasing restaurants in Star Valley. We go to restaurants, eat our favorite dish or their signature dish, and report our experiences. Disclaimer: We do not get paid for this, nor accept bribes, other than possibly a free meal. We are not chefs or snooty connoisseurs of fine dining, just normal people going out to eat and telling you what we think. And being brutally honest.
---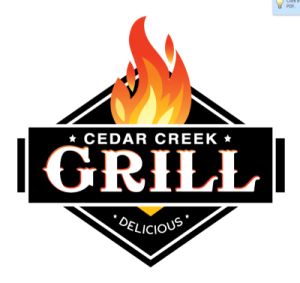 On 05/28/19 I ate at our newest restaurant, the Cedar Creek Grill. Got their signature burger and fries.
The burger was a quarter-pounder, and more done than I usually like it, but it was very tender, juicy, and flavorful; so all is well. Cheese choices were American, Provolone, and Pepper Jack. I prefer Cheddar, but it was still good. It came with lettuce, tomato, onion, pickle (I'm not fond of pickles, but since I didn't say anything, no foul), and a sauce that had some spice to it. Very good.
Bun was nice, large, and tasty, but the burger was so juicy, it got wet and fell apart. Some would say that's good! Others would say that's bad. Normally I like juicy over a bun that's too thick and dense, but I had to eat in the car this time.
You can get fries, onion rings, or chips with each meal (I'll try the onion rings next time). Fries were thin Juliennes, very crispy, and enough to be a meal in themselves. They were a smidgen spicy. Black pepper-ish. There was a sauce on the side. I tried some of it. Don't know what it was, a little spicy and tasty, but I didn't need it.
If you eat here, and you like fairly spicy food as a default, you're in the right place. I like most spices except Jalepenos and "liquid smoke" (which makes me want to throw up). I enjoy spice that doesn't overpower the taste of the food, and they hit that "happy medium" perfectly for me.
I'm definitely going back. Other choices I might try next are the Quesadillas (one of my favorites), or the chicken strips. They have a "sticky finger" sauce offered with some meals. Don't know what that is, and sorry, I didn't ask. Maybe next time.
These guys are over on the West side of 89, North of Lower Valley Energy, South of B&H Auto Repair, in the parking lot of the old Nield Beef building. Go give them a try and tell us what you think. 307-883-4745.
~ AndyO
---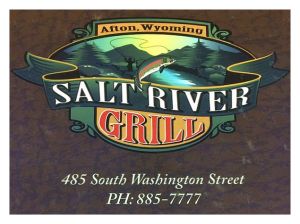 Last Saturday, January 12, 2019, my wife and I ate at the Salt River Grill. We were in town to shop and we got hungry.
I ordered one of my old stand-by's, the Patty Melt (with fries and Cole slaw). This place does it half-right, they put it on rye bread, but they, like most Star Valley restaurants, will make Swiss cheese the default. I've even had some restaurants' menus say "American cheese", which turned out to be Swiss. I was brought up with Cheddar as the default on Patty and Tuna melts, so that's what I asked for.
Anyway, the patty itself was very large, I would guess a half-pound, and was done perfectly. The Rye bread was a high-quality thick bread, which was toasted and very tasty. I also ordered fries and Cole slaw. The fries were Julienne-cut and done just right - nice ad crispy and golden-brown on the outside, and not a drop of grease. No wet worms there. The Cole slaw was my favorite kind, lots of different types of cabbage with a sweet cream sauce. I'm not one for the vinegar slaw. So, for me, the lunch was just right. The prices are right in the middle as well: maybe a little high, but for the quality of food you get, you won't mind paying it. I haven't tried any of their breakfast dishes. I might have to.
My wife adds: I ordered a steak and cheese sandwich with French Fries, and what a pleasant surprise! It was actually a piece of steak with grilled onions cooked just the way I asked for it. And the French Fries there are always the best. Service is great - prompt and very attentive without hovering. And all for a reasonable price. The Salt River Grill is one of my favorite places to eat in Afton!
Slat River Grill: 482 South Washington Street, Afton, WY 83110 | 307-885-7777 | No Web Site, But Facebook Wall
~ AndyO
---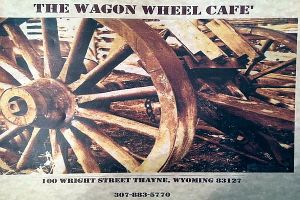 Just had the pleasure of stopping into the Wagon Wheel Cafe in Thayne. Used to be "Hub's Smokin' Grill", which I ate at a few times. Not sure if the management is the same, and they just changed the name, of if the staff are the same. Didn't have time to ask.
This day was a rush (at lunch time). There were some problems with orders. When I inquired, the main hostess/waitress said it was her first day. I wouldn't hold that against them. We've all been there.
The guy beside me at the bar had eggs, sausage, & hash browns. They serve breakfast all day. I was tempted - it looked good, especially the big round of sausage. I looked over the menu. Normal "burger joint" fare. I wasn't too hungry, so I chose the normal Cheeseburger dish (they have bigger ones), with onion rings. I chose Cheddar cheese, since they offer a choice of cheeses (people in Star Valley seem to love Swiss cheese, I don't). After I got it, I ran over to the salad bar and put some Bleu cheese on it. Cheddar & Bleu together - yummmm!
The bun was not the greatest, but better than most. Burger was bigger than most. Good size. Half-pound? Cooked well, and a decent flavor all by itself. Lettuce, onions, and tomatoes all fresh. Onion rings were slightly soggy, but very good breading and taste. I suggest most restaurants deep-fry at a slightly higher temperature and for a shorter amount of time, to braze the outside of the fries and onion rings, but let the inside just get hot enough to be cooked.
When I was done, I noticed that they had pie, and one of my favorites. I asked if they made their pies there or bought them. They said they made them, so I couldn't resist: I had a piece of Coconut Creme pie. Very good. Small size, but the price was equally small.
Note: this place gives discounts (15%?) to vets. So to all veterans: go to the Wagon Wheel Cafe in Thayne, and get a good meal!
Wagon Wheel Cafe: 100 Wright St. | Thayne, WY 83127 – (307) 883-5770 | No Web Site
~ AndyO
---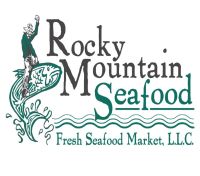 Our first restaurant is one of my favorites, Rocky Mountain Seafood. You'd be surprised to find a great seafood place at the top of the Rocky Mountains. I mean, do they go ice fishing in the Winter? I'm not a fish-lover. I usually ask for the "fish that doesn't taste like fish". And I really don't like shellfish, like clams, mussels, etc. Anyway, I had my favorite dish there: Salmon Parmesan.
The Salmon is always cooked to a perfect pink (mauve or you truly discerning types), and the cheese is melted to a slightly golden-brown on top. I usually don't put any tarter sauce or any other flavorings on top, since it usually tastes pretty good as it is. Maybe some pepper. The fries are usually cooked correctly, slightly over-cooked like I like them, a little crunchy, not greasy.

This time around, the cheese was a little greasy or oily, but that's unusual. I really like this dish at this place. One of my favorites. Please stop in and try one of their dishes yourself.
Rocky Mountain Seafood: 492 South Washington St. | Afton, WY 83110 – (307) 885-2722 | http://rockymountainseafoodllc.com/
~ AndyO
---