Welcome to Star Valley Appetite

This page is dedicated to showcasing restaurants in Star Valley. We go to restaurants, eat our favorite dish or their signature dish, and report our experiences. Disclaimer: We do not get paid for this, nor accept bribes, other than possibly a free meal. We are not chefs or snooty connoisseurs of fine dining, just normal people going out to eat and telling you what we think. And being brutally honest.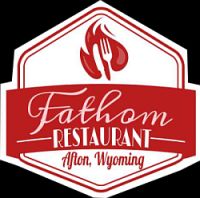 One of the newer restaurants in our valley is "Fathom". 461 South Washington St., Afton. (307) 885-1919.
Fathom Restaurant boasts the healthiest and freshest ingredients for their international menus of Indian, Filipino, Vietnamese, Mexican, Caribbean, and American classics.
I eat there about twice a month. I love the Saffron Curry Chicken, medium-spicy, with vegetables, rice, and garlic nan. Yum!
Check out their web site at: https://www.fathomrestaurant.com/

---
I thought I'd throw in a few places that are not lunch/dinner restaurants, but quickie snack/dessert places. We've got a few of them around the valley (I don't get up to Alpine much, so anybody from up there reading this, please send us a note). Here we go, in no particular order (click on a pic below to see an enlargement):
(1) Lulu's Italian Ice / Frozen Custard / Gelati: I tried the Gelati, which, Since I'm Italian, it's not really Gelato, but it's pretty darn good. Many places here in Star Valley, say they are a particular thing, but are not. I forgive them if they make a great product that tastes great, and LuLu's fits that bill. I liked the Frozen Custard even better. LuLu's can be found in Afton, in the parking lot of the Afton Car Wash, beside the Star Valley Soaps and SilverStar offices, on the corner of Route 89 and Nield String road. Please give them try.
(2) SnoAsis: I'm a fan of the old "Slushies", because they were more "dense" than the newer style of flavored ice. SnoAsis brings those back. The ice crystals are very small and "dense" (you'll have to try one to know what I mean), and their flavoring is much better than the average ice dessert. And you can get a scoop of ice cream in your shaved ice. Please give them a try. You'll keep coming back. They can be found in Afton, in the Broulim's parking lot on Route 89.
(3) Star Valley Sodas: I've only been here a couple times, and I've ordered the same thing both times, so someone else will have to give a more detailed opinion. BUT!!! What I DID have was great. I'm a real fan of Cream Sickles, or what are sometimes called Dream Sickles. Usually orange juice and ice cream, with other flavors. The ones I've had at Star Valley Sodas bring back that great taste of my yesteryear. They have MANY flavors of sodas and mixes. And they now have food items. My wife had the cinnamon rolls. Said they were pretty good. I grabbed a paper menu that lists cookies, nachos, pretzels (I assume soft pretzels), and different flavors if ice cream. Again, stop by, have something, and tell me what you think. They can be found in Afton, on the Southeast corner of Route 89 and 3rd Avenue.
~ AndyO
---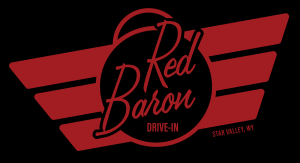 It's Summer in Star Valley. Well, maybe not until July. But the Red Baron Drive-In restaurant is open, so it's close enough. I love this place, and the new owners have improved it. I was in a rush, so I didn't look over the new menu, so I just ordered the basic double-cheeseburger, fries, and, my favorite drink there, a large Orange BANG!!!! The new rolls are much better then they used to be. Higher-quality bread. The meat is as expected. Cheese likewise. Fries are the thin Julliennes, cooked perfectly. The Orange BANG! is a great drink with squeezed oranges in it. Healthy and delicious. Stop by and give this place a try.
I'm sure I'll be going back. See their web site: https://redbarondrivein.com/
~ AndyO
---

Hey! The newly remodeled Broulim's has come new food! Over in the Deli section, on the North wall, there's a cash register, and beside it is a case of sandwiches. These are made with good meats and cheeses from the Deli, and on rolls that are fabulous. Not sure what kind to call them: Kaiser, Baguette, ...., but they're great. I had the "Chicken Pesto" sandwich. Now, there was no Pesto sauce on it, or flavoring, and the bread has no Italian seasonings on it, but that's the name. And it was great. Chicken was good and juicy, with Provolone cheese (was that the Pesto part?!?), and I got the Wheat bun. They heated it up, or toasted it. They do things much like Subway, where you can get a sandwich and have them put whatever you want on it from a large selection. I bought a bag of chips and a small Cole Slaw. Love that Cole Slaw. Nice and sweet, not too "mustardy" or "pickely". Anyway, these are worth a try.
Addendum: Have since tried the French Dip (roast beef with a dipping sauce called Au Jus), and one other. Both great. Stop by, try one, and give me your opinion.
~ AndyO
Tim here. I've always been a little reluctant to each grocery store, pre-made food. The convenience factor (I'm doing my grocery shopping as well) recently won me over, and I discovered a few excellent items to try. First is Broulims' wok bar, where you choose a meat, 5 vegetables, rice or noodles, and your choice of stir fry sauce. Very tasty! A few times a week Broulim's also brings in a few sushi chefs, who prepare a bunch of tasty sushi rolls to purchase and sample throughout the week. My taste for sushi has take quite a while to acquire, but these folks do a solid job!
~ Tim H.
---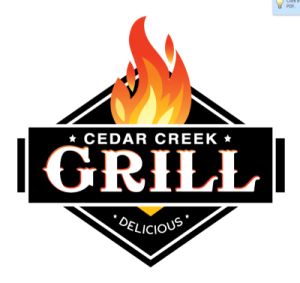 On 05/28/19 I ate at our newest restaurant, the Cedar Creek Grill. Got their signature burger and fries.
The burger was a quarter-pounder, and more done than I usually like it, but it was very tender, juicy, and flavorful; so all is well. Cheese choices were American, Provolone, and Pepper Jack. I prefer Cheddar, but it was still good. It came with lettuce, tomato, onion, pickle (I'm not fond of pickles, but since I didn't say anything, no foul), and a sauce that had some spice to it. Very good.
Bun was nice, large, and tasty, but the burger was so juicy, it got wet and fell apart. Some would say that's good! Others would say that's bad. Normally I like juicy over a bun that's too thick and dense, but I had to eat in the car this time.
You can get fries, onion rings, or chips with each meal (I'll try the onion rings next time). Fries were thin Juliennes, very crispy, and enough to be a meal in themselves. They were a smidgen spicy. Black pepper-ish. There was a sauce on the side. I tried some of it. Don't know what it was, a little spicy and tasty, but I didn't need it.
If you eat here, and you like fairly spicy food as a default, you're in the right place. I like most spices except jalepenos and "liquid smoke" (which makes me want to throw up). I enjoy spice that doesn't overpower the taste of the food, and they hit that "happy medium" perfectly for me.
I'm definitely going back. Other choices I might try next are the Quesadillas (one of my favorites), or the chicken strips. They have a "sticky finger" sauce offered with some meals. Don't know what that is, and sorry, I didn't ask. Maybe next time.
These guys are over on the West side of 89, North of Lower Valley Energy, South of B&H Auto Repair, in the parking lot of the old Nield Beef building. Go give them a try and tell us what you think. 307-883-4745.
Addendum: Went back to the Cedar Creek Grill to try their Quesadillas. At first I though they gave me the wrong order. They look like tacos. Most people would expect a Quesadilla to be large and flat. Two whole tortillas, flat, and filled with cheese and whatever else. The Cedar Creek Grill serves their Quesadillas on small tortillas and folds them. Now, Quesadillas ARE a member of the Taco family, and DO come folded, now and then, but I'd change the name of the dish from Quesadillas to Tacos. Anyway.....
The Quesadillas were great. I ordered them with chicken. And fries. Same great spicy taste and more than enough that I couldn't finish them.
Everyone within the sound of my typing, please try this place. You won't be sorry.
~ AndyO
---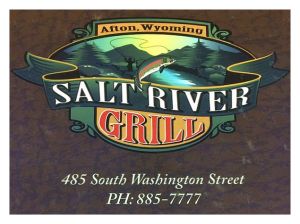 Last Saturday, January 12, 2019, my wife and I ate at the Salt River Grill. We were in town to shop and we got hungry.
I ordered one of my old stand-by's, the Patty Melt (with fries and Cole slaw). This place does it half-right, they put it on rye bread, but they, like most Star Valley restaurants, will make Swiss cheese the default. I've even had some restaurants' menus say "American cheese", which turned out to be Swiss. I was brought up with Cheddar as the default on Patty and Tuna melts, so that's what I asked for.
Anyway, the patty itself was very large, I would guess a half-pound, and was done perfectly. The Rye bread was a high-quality thick bread, which was toasted and very tasty. I also ordered fries and Cole slaw. The fries were Julienne-cut and done just right - nice ad crispy and golden-brown on the outside, and not a drop of grease. No wet worms there. The Cole slaw was my favorite kind, lots of different types of cabbage with a sweet cream sauce. I'm not one for the vinegar slaw. So, for me, the lunch was just right. The prices are right in the middle as well: maybe a little high, but for the quality of food you get, you won't mind paying it. I haven't tried any of their breakfast dishes. I might have to.
My wife adds: I ordered a steak and cheese sandwich with French Fries, and what a pleasant surprise! It was actually a piece of steak with grilled onions cooked just the way I asked for it. And the French Fries there are always the best. Service is great - prompt and very attentive without hovering. And all for a reasonable price. The Salt River Grill is one of my favorite places to eat in Afton!
Slat River Grill: 482 South Washington Street, Afton, WY 83110 | 307-885-7777 | No Web Site, But Facebook Wall
~ AndyO
---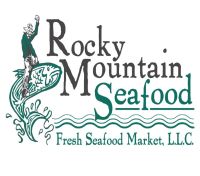 Our first restaurant is one of my favorites, Rocky Mountain Seafood. You'd be surprised to find a great seafood place at the top of the Rocky Mountains. I mean, do they go ice fishing in the Winter? I'm not a fish-lover. I usually ask for the "fish that doesn't taste like fish". And I really don't like shellfish, like clams, mussels, etc. Anyway, I had my favorite dish there: Salmon Parmesan.
The Salmon is always cooked to a perfect pink (mauve or you truly discerning types), and the cheese is melted to a slightly golden-brown on top. I usually don't put any tarter sauce or any other flavorings on top, since it usually tastes pretty good as it is. Maybe some pepper. The fries are usually cooked correctly, slightly over-cooked like I like them, a little crunchy, not greasy.

This time around, the cheese was a little greasy or oily, but that's unusual. I really like this dish at this place. One of my favorites. Please stop in and try one of their dishes yourself.
Tim here. I've gotta say, there's simply nothing better (in my opinion) than fish and chips from RMS. It simply can't be beat. The cod and chips meal is very satisfying, though cod is a lighter-weight fish that may not be as filling for those with a big appetite. If you're really looking to get your fill on, go for the halibut. This fish is much more dense and meaty compared to almost anything else on the menu. ~ Tim H.
Rocky Mountain Seafood: 492 South Washington St. | Afton, WY 83110 – (307) 885-2722 | http://rockymountainseafoodllc.com/
~ AndyO
---